Whenever anyone asked what my favorite subject in school was as a child, I always said, "Spanish!" Learning a foreign language felt like learning a secret code that opened up a whole new world of people to communicate with and experiences to enjoy. Even though no one in my family spoke a second language, I was bound and determined to become fluent in Spanish and chose to major in it in college and study abroad in Salamanca, Spain. And when I began my search for my first school counseling job, I wrote "Spanish-speaking student population" as one of my highest priorities on my "perfect school" wish list. I knew this community was under-served for mental health services and my heart was pulling me in the direction to help them. I was lucky enough to find my dream job at an urban school in Nashville, TN where 80% of my students spoke a language other than English at home. I can honestly say that serving this diverse and multicultural population for eight years was one of the greatest joys of my life. You can only imagine the surprised (but delighted!) look on my students' faces when their blonde-haired, green-eyed counselor spoke Spanish to them (and understood their "secret" conversations, hehe!) My language skills were an incredible asset to me in my practice because counseling, like prayer or meditation, is an intimate, personal, and deep experience. Being able to connect with my students and their families in the language of their heart, without them needing to translate their thoughts and feelings, allowed for an authentic, genuine, and heartfelt connection.
"If you talk to a man in a language he understands, that goes to his head. If you talk to him in his own language, that goes to his heart."

– Nelson Mandela
Although speaking Spanish was a priceless advantage for me, you do NOT need to be bilingual to serve this population effectively. Even just learning a few simple greetings:
Hi! Welcome! I'm the school counselor.
¡Hola! ¡Bienvenidos! Soy la consejera escolar.
can really help make students and their families feel comfortable, safe, and welcome with you. Despite being bilingual, there was a major learning curve for me in working with EL (English Learners) and their families. Here are some tips, tricks, and advice that I learned along the way.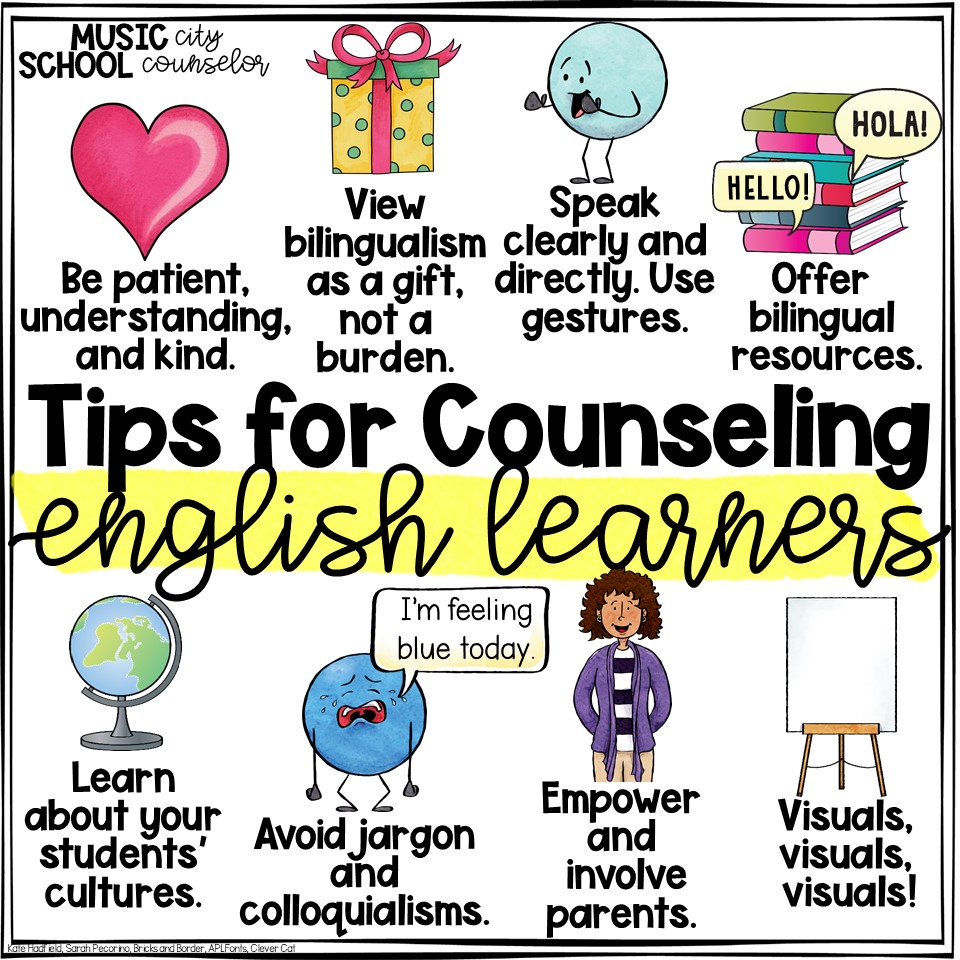 1) Be PATIENT, UNDERSTANDING, and KIND.
I know, this one may seem obvious. But it's impossible for most of us to even imagine the immense challenges facing our immigrant and EL students today. Many of our immigrant families are living in fear of deportation every single day and, despite working long hours, struggle to provide for their family's most basic needs. Immigrant and EL students and their families may feel misunderstood, unwelcome, out of place, and "different" wherever they go. Parents may be unwilling to come to school events, parent/teacher conferences, etc. out of fear that since we are a government agency, we may report their immigration status to authorities. As educators, it is our responsibility to make sure our students and their families feel welcome, cared for, and safe inside the doors of our school. When we are patient, understanding, and kind, and meet these families where they are, we can be a light in these sweet families' lives.
2) View being bilingual as a gift, not a burden.
Can it be more challenging at times to work with ELs than non-ELs? Yes. But is the extra effort with it? Yes, yes, YES! I can think of several students in my career who came to us directly from foreign countries and did not speak a single word of English when they first walked through our doors. Seeing their language skills and confidence grow and blossom over their elementary years just took my breath away! When we adopt a strengths-based approach, we view ELs language needs as a gift, not a burden. What a privilege it is to be part of EL's language journey. As they grow older, they will remember those of us who were welcome, understanding, and patient with them. And we will remember them, too.
3) Learn about your students' cultures!
In order to truly understand and respect our students and their diverse backgrounds, it is so important to take the time to learn about who they are and where they came from. Yes, there are similarities between Spanish-speaking countries in their beliefs, customs, cuisine, cultural norms, language, etc. But, there are just as many differences between these cultures as there are similarities! When we take the time to ask questions, do research, and get to know these families on a personal level, the connection and level of understanding we have for each other grows exponentially. At my school, in addition to a large Spanish-speaking population, we also had a fair amount of Somali refugee students. This culture and the way they tend to view education differs dramatically from traditional American culture, so my principal knew it was very important for us to learn more about them. So, he gathered the Somali translators that work for our district for an information session and Q & A after school. I learned so much about their cultural norms, history of their people, their experiences in refugee camps, and more through this panel. For example, I had previously wondered why so many of my Somali parents struggled to read or write the information I sent home in their native language until I learned that their written language wasn't introduced until 1973 and many never had the opportunity to learn it. Learning more about the populations and cultures at my school helped me leave any judgment or assumptions I had at the door and be an informed, culturally sensitive practitioner.
4) Speak in direct, simple, sentences.
I know personally how incredibly difficult it is to learn a foreign language. So, I was always very intentional about the language that I used with my students. With our beginner students, I spoke in short, clear, simple, and direct sentences and avoided any jargon or idioms. For example, when teaching about feelings, I would never say, "Julia is feeling blue today" – because as you can imagine, that would cause a lot of confusion! Instead, I would be more direct and say, "Julia is feeling sad today." Gestures and hand motions are very helpful, too! It definitely takes some practice and effort, but anything you can do to help enhance your students' understanding of your speech is well worth it!
5) Visuals, visuals, VISUALS!
Offering rich, eye-catching, and engaging visual aids is critical when working with ELs. I like to use a mix of digital images on a SmartBoard, realia, printed photographs, and clipart with my students to help enhance their understanding. Words can only go so far and although it may sound cliché, a picture is truly worth a thousand words! I also like using games and activities that don't require language or reading at all, such as this Choices and Behaviors Sorting Game that encourages students to review behavior cards and sort them as either a helpful "tool" to add to their toolbox or a sad choice to throw away in the dump truck.
6) ALL materials sent home should be bilingual.
With 60% of our student population speaking Spanish at home, sending home bilingual materials was commonplace in our school. Despite being a low-income school with limited resources, we were fortunate enough to have a full-time translator on staff who translated all documents into Spanish for us. It took a little extra time and photocopies, but sending letters, flyers, and notes home in a language our parents could understand was absolutely critical. If your school does not have a translator on staff, it is likely that there is one available at the district-level. If worse comes to worse, you can use Google Translate, but keep in mind that although the general message will hopefully come across, your translation will be far from perfect.
7) Offer bilingual counseling resources to students and display them in your office/classroom.
Imagine if you attended school in another country and all of the materials on the walls, on your desk, and in your teachers' hands were in a foreign language that you couldn't understand. Now imagine if you walked into that same classroom and displayed on the walls were posters and visual aids in your native language. Wouldn't you feel so welcome, noticed, and seen? Bilingual counseling resources can be hard to find, but I encourage you to search them out and try to provide them whenever you can! One simple place to start is by displaying something like a Feelings Alphabet in both languages in your classroom/office, or using a game like this Bilingual Coping Skills Matching Game in your groups and individual sessions.
8) Empower parents to be part of their child's learning.
In my experience, many (not all!) of my EL parents saw the home and school as two very separate entities that were not intertwined. They believed that their responsibility was to teach their child behavior, manners, etc. at home and our responsibility was to teach their child to read, write, etc. at school. They felt helpless in doing homework with their child and reinforcing academic material at home, so they just stayed away from that arena entirely. They also feared that speaking or reading books aloud in their native language may confuse the child or hinder their English language development…when the opposite is actually true! In reality, the stronger the child's foundation in their native language, the easier it will be for them to develop their English language skills. And in today's multicultural society, their native language skills will be absolutely crucial in their professional and personal life as they grow, and could be a game-changer when they eventually search for a job. It is crucial that educators send the message that immigrant parents CAN help their child learn – and are, in fact, a critical part of their child's education. When I met with parents and offered after-school parenting workshops, I loved to give little tips to help them become more involved in their child's learning. I encouraged them to read stories aloud in their native language, then ask "W" questions about the text. I showed them helpful apps such as Google Translate that allowed them to translate sight words and homework assignments, and use the speaker option to have the translator say the content aloud. I sent home flyers about special events at the public library and instructions for how to get a library card so they could check out age and level-appropriate books. The key here, and the educators' responsibility, is to help parents understand that they CAN help their child learn and empower them to do so.
No matter how big or small the EL population is at your school, I hope that these tips and pieces of advice were helpful to you!
Pin this post for later: