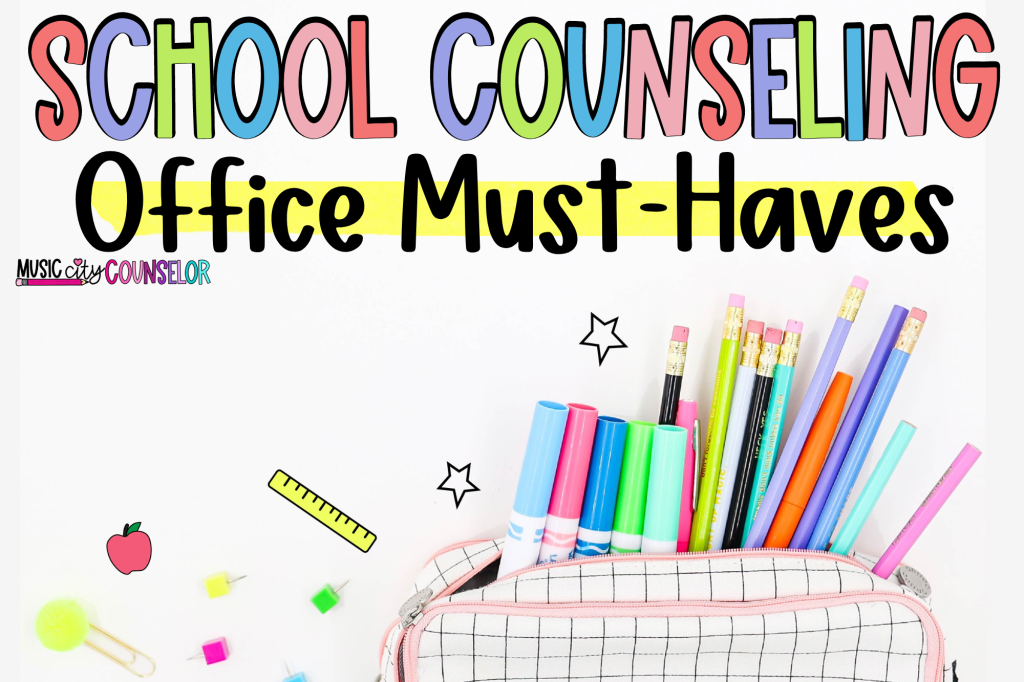 School counselors, did your school give you a budget to purchase supplies, but you have NO.IDEA what to buy? Friend, I've been there!
Let's dive into my list of 10 School Counseling Office Must-Haves to help you make the most of your school funds!
School Counseling Office Must-Haves:
1) SEL Books
If you know me, you know that I start just about every school counseling lesson with a story! Having a solid school counselor library with books on a variety of topics is crucial to my success.
Scholastic book fairs, public library sales, and used bookstores are great places to grow your collection on a budget. The goal is to have a couple of go-to books on as many topics as possible (i.e. anger, grief, trauma, anxiety, divorce, feelings, coping skills, careers, friendship issues, kindness, problem-solving skills, etc), so you are ready for any student needs that walk through your door.
It was very hard to narrow down, but here is my list of my top 10 favorite books for school counselors (Amazon Affiliate Links):
To learn more about each book and how I use it, please check out my blog post!
2) Book Bins
And to organize my school counselor library, book bins (Amazon Affiliate Link) are an absolute must-have! These are also sometimes called "magazine file folders." I tape a category label (i.e. anxiety, feelings, divorce) to the front of the bin and store all of my books on that topic inside. This makes it SO EASY to find the books I need, when I need them!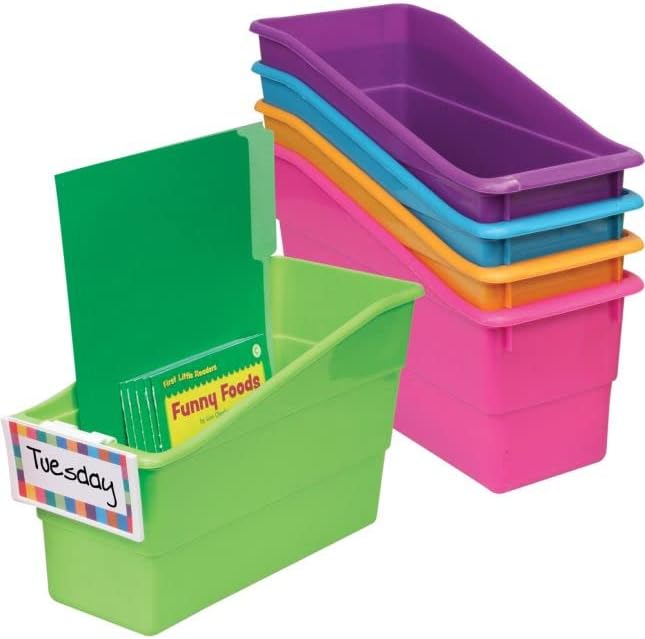 3) School Counseling Planner
School counselors wear so many hats and serve so many students. Organization is key to our success! I created this planner just for school counselors that includes yearly, monthly, and daily calendars, and helps us track:
Lesson planning and scheduling
Small group planning and scheduling
Individual counseling sessions
Referrals
Parent/caregiver contacts
Program goal-setting
Community resources
Passwords
Comprehensive program planning
and more!
Having all of this information and data in one safe place really keeps me organized, and prevents those frantic "what's going on today!" moments!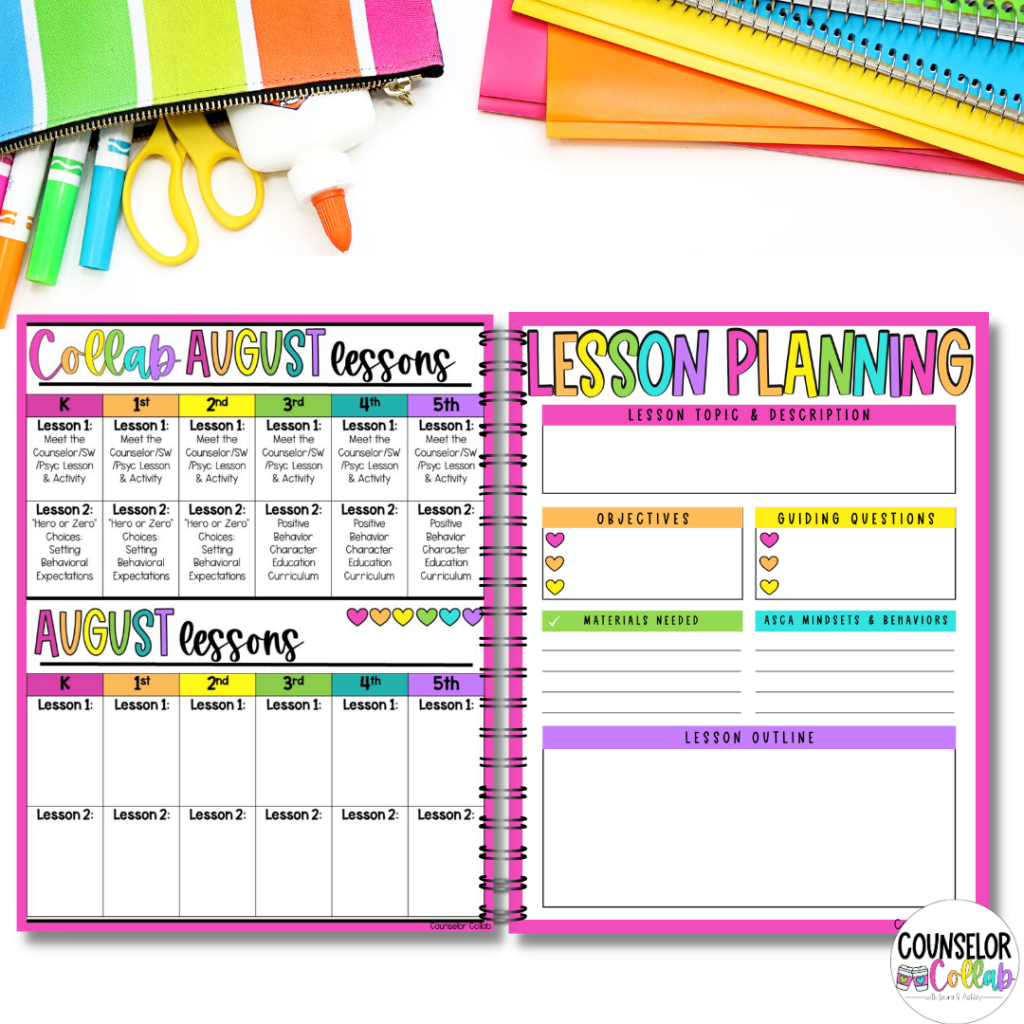 We offer a very similar planner in our Counselor Collab Membership, but it also includes a curriculum map with ALL of your bimonthly K-5th grade lessons organized and planned for you (yassss!) This is especially helpful for new counselors, or those that want to spend less time planning, and more time serving students!
4) Flair Pens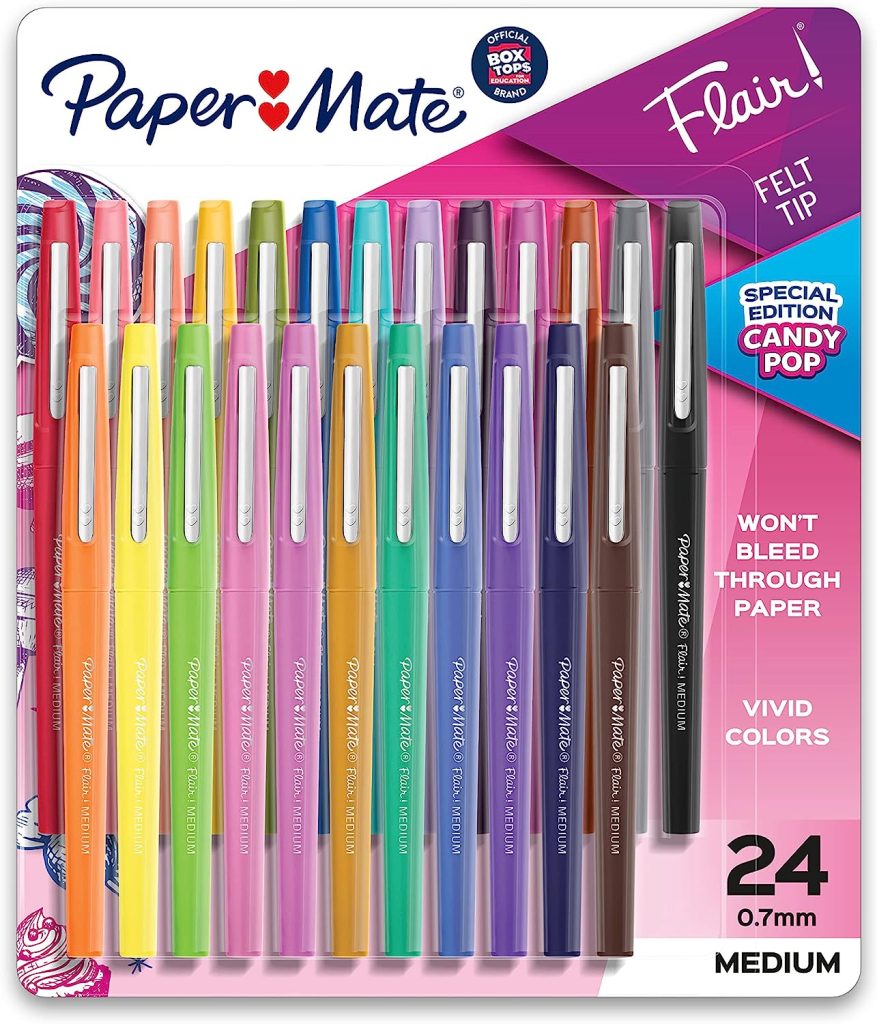 We all have our own preferences when it comes to pens, but Flair pens (Amazon Affiliate Link) are my fav! The assorted colors are super helpful for note-taking and color-coding. I assign each grade level a color and that helps me schedule special events, lessons, groups, and individuals in my planner. Buying a new set each school year is something I look forward to (I know this is silly, but true!).
5) Bean Bag Chair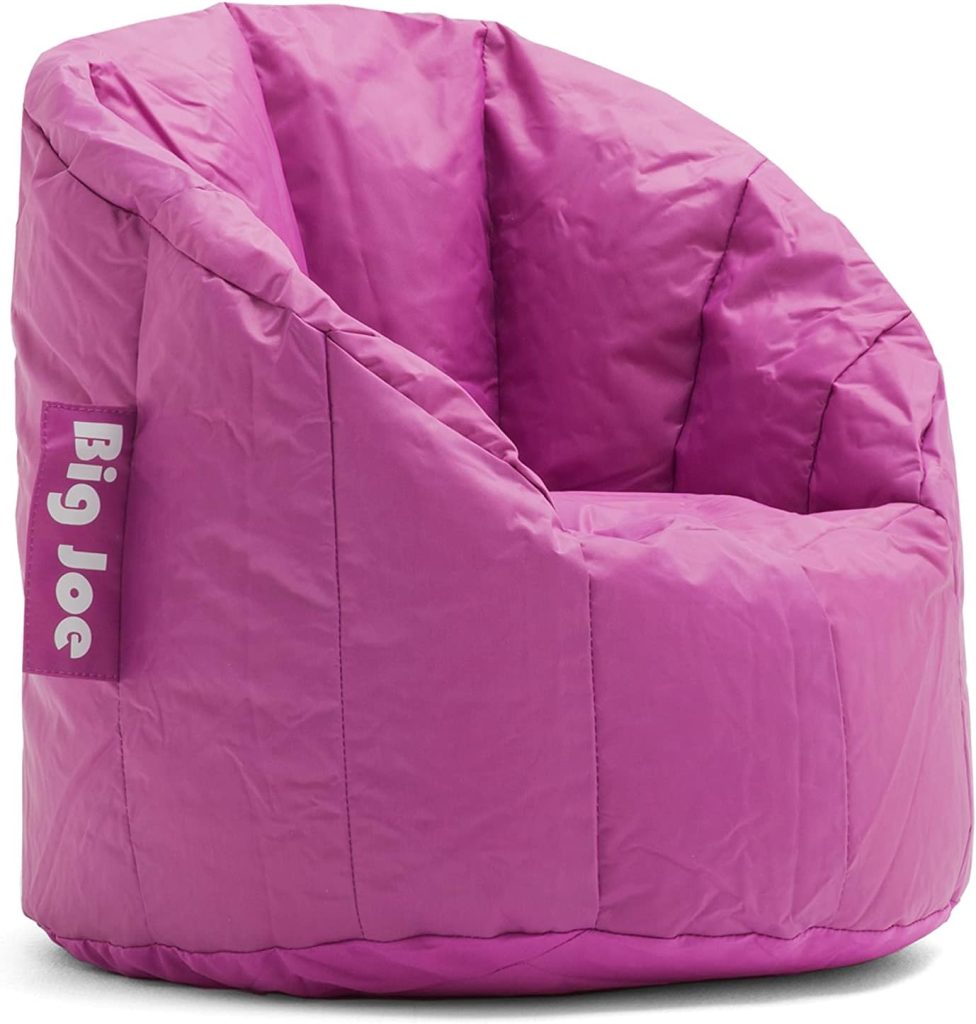 Setting up a Calm Corner in my classroom is one of the best decisions I've made as a school counselor! It's the perfect comfy safe space for individual counseling sessions, and for students to retreat to when they need to reset and regulate their emotions.
My Calm Corner has a shaggy rug, bean bag chair, soft pillows, stuffed animals, a basket of fidgets, and feelings charts. My mom actually found my bean bag chair at a garage sale, and it's been well-loved in my space ever since!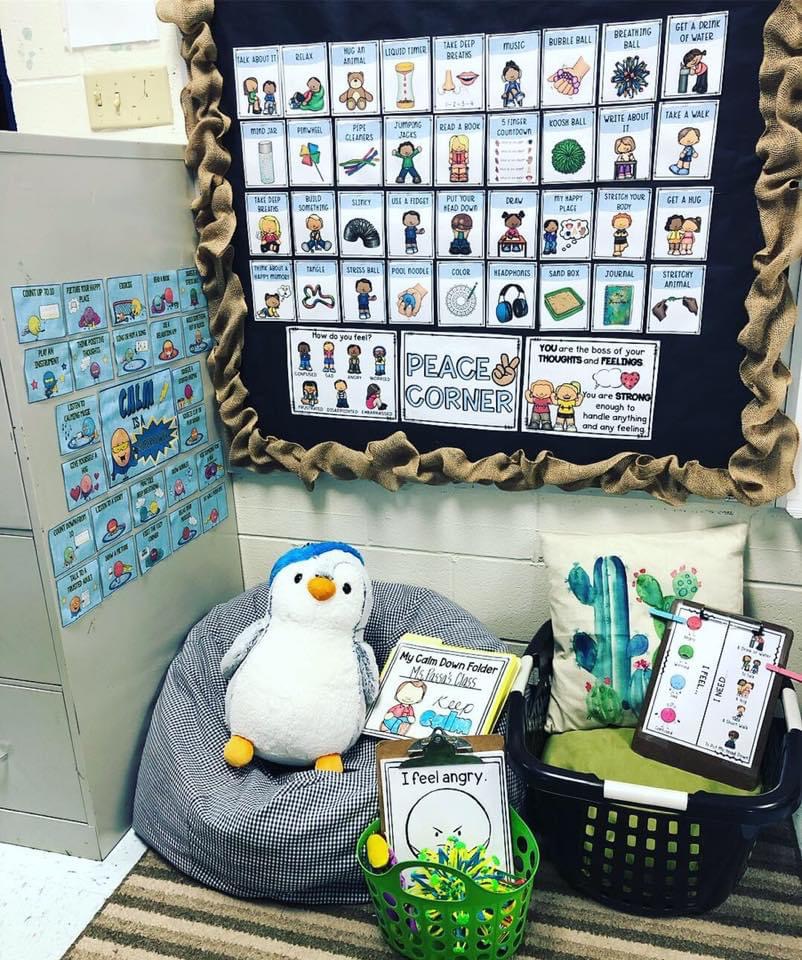 6) Markers & 7) Crayons
I know this one seems obvious, but it's still worth mentioning! Our little friends love to learn and express their feelings through coloring. Especially for those kiddos that are hesitant to share, drawing and coloring are always my go-to activity!
Honestly, if I could only have two items to use with students, it would be a piece of paper and crayons.
I recommend using crayons with K-2nd graders and markers with 3rd – 5th graders.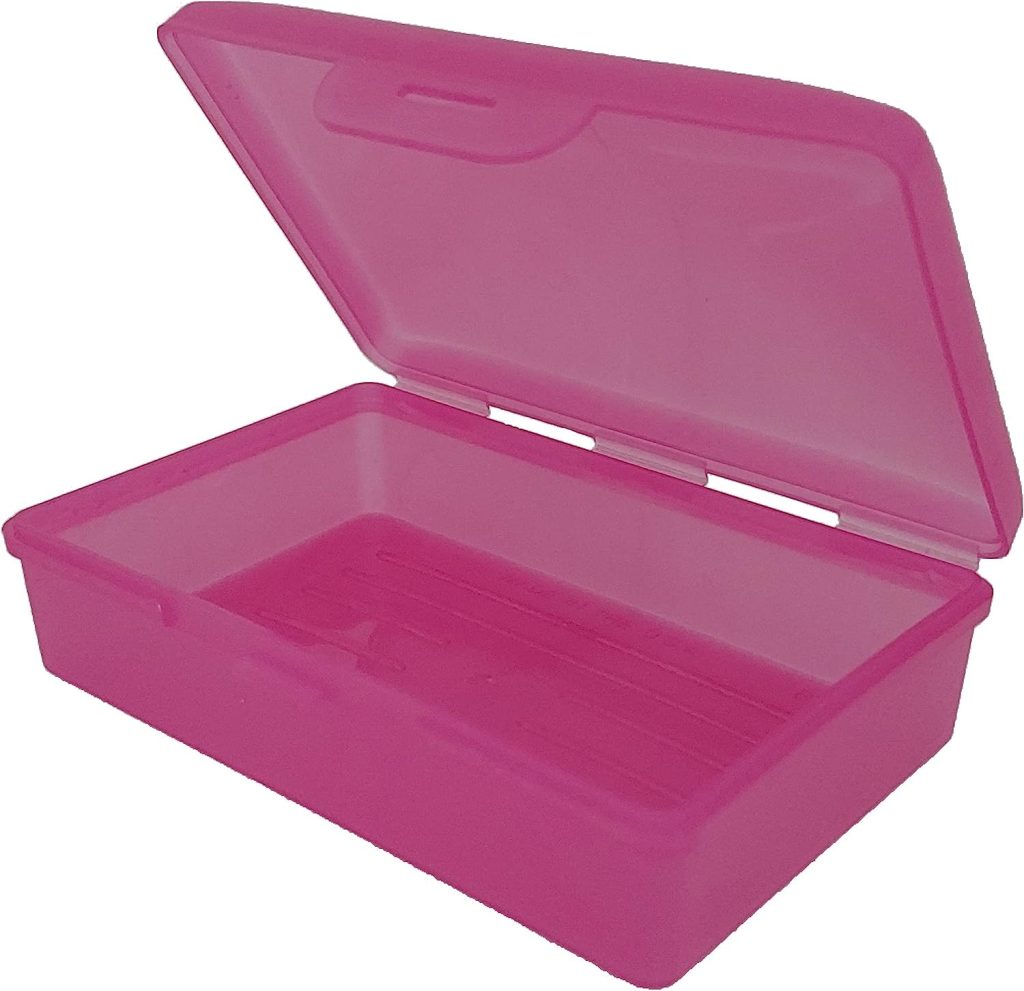 One of my favorite hacks I learned from a Kindergarten teacher is to store crayons in soap boxes (Amazon Affiliate Link). A standard pack of crayons fits in them perfectly, they're easy for kiddos to open and shut, and are very durable!
8) Basket of Fidgets & Sensory Tools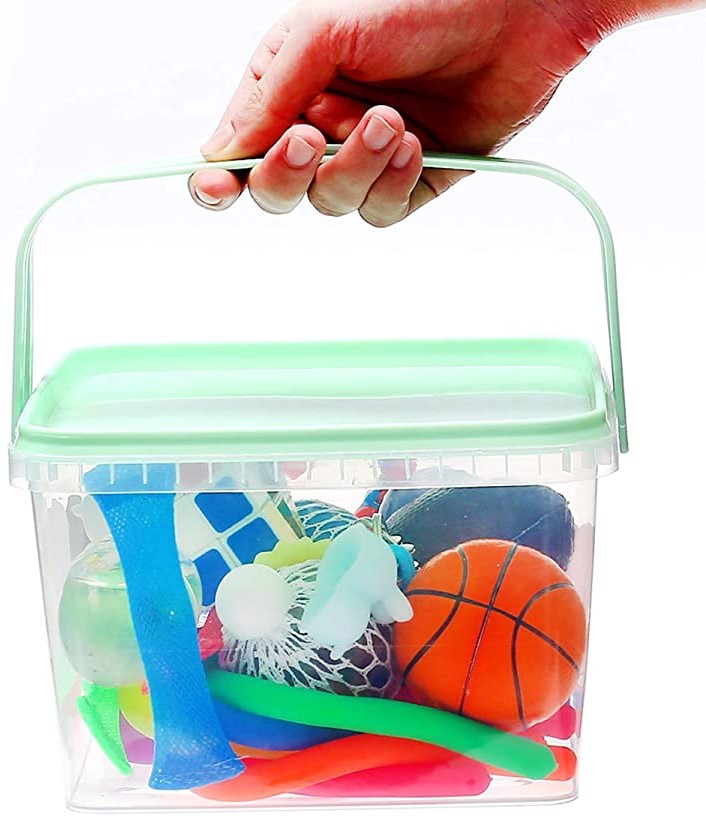 So often, students dealing with big feelings are not ready to talk or don't have the language to express their emotions quite yet.
Fidgets and sensory tools help bridge this gap while still providing support for self-regulation.
They also encourage independence and self-reliance in students. Here are some of my favorites (Amazon Affiliate Links). You likely have many of these items laying around your office already!
9) Counselor Collab Membership
With so many duties, so many responsibilities, and so many students, "planning time" isn't really a thing for school counselors. And, when we create our own lessons, we never know if they'll be a "hit" or a "flop."
The Counselor Collab Membership offers effective, research-based, and engaging curriculum that is all organized by topic.
All counselors need to do is log in, find a ready-to-go resource in the category that they need, download it, and use it with students! The yearly plan offers over 150 resources all in one place, and is a literal one-stop-shop, treasure trove for school counselors!
10) 10-Drawer Cart Organizer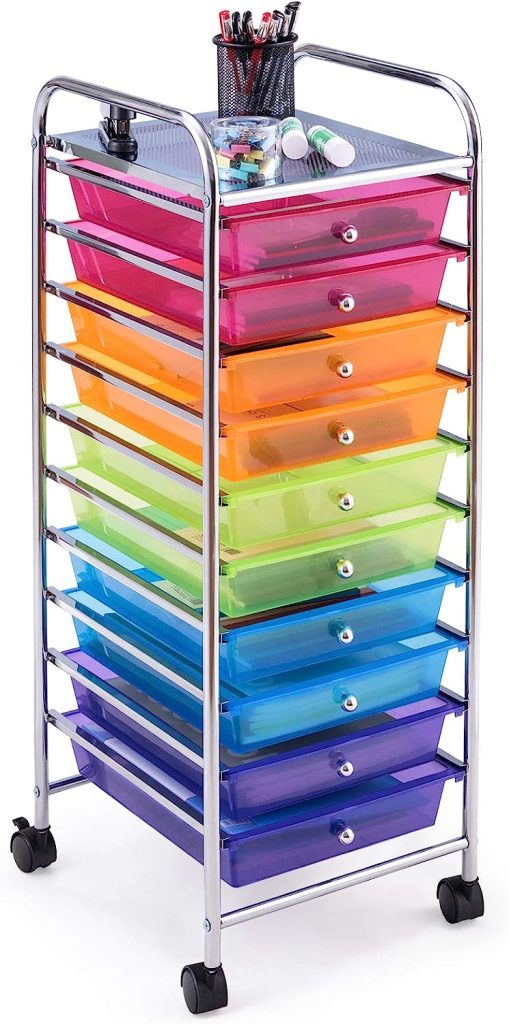 Last by not least, this 10-drawer cart organizer not only offers a beautiful pop of color in your space, but is an amazing organizational tool! It helps me keep all of my lesson and small group materials all in one place. I also store 504 paperwork and referrals in here! Here's how I labeled my 10 drawers: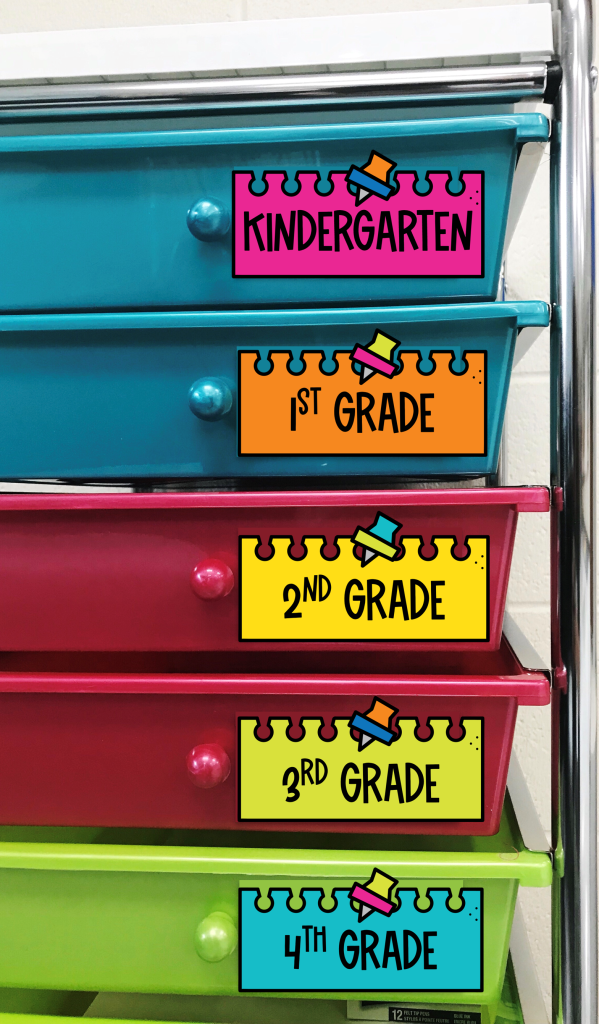 Kindergarten
1st Grade
2nd Grade
3rd Grade
4th Grade
5th Grade
Small Group 1
Small Group 2
504 Paperwork
Referral Forms
And here is a freebie with the labels I used (they're editable so you can create your own!)
---
I hope that this post gave you practical ideas for what you need, and "wish list" items you'd love for the future to help your school counseling program thrive!
Do you use any of these items in your practice? What are your must-have school counseling resources? Please comment below, I'd love to hear from you!

You may also be interested in: