I was a first-year school counselor standing at the front door greeting students as they walked into school for the day. A new second grader approached me and asked for a snack. I noticed right away that she looked unkempt – her clothes were dirty and her hair was matted. I had some treats in my office and asked her to join me. When we arrived at my office, she ate and asked if she could tell me a secret. She then shared that her mom had been gone all weekend and left her in her room to watch TV alone. She revealed that her mom kept all of the food locked up and she couldn't find the key. She couldn't remember the last time she ate.
My heart sank. I wanted to do anything I could to help her. But this was a heavy, overwhelming issue for a brand new counselor. I consulted with my district supervisor who walked me through the steps of submitting a DCS report and gathering resources for the student (including some bags of food to take home and fresh clothes). This experience inspired me to learn as much as I could about child abuse. I wanted to prevent this from happening to other students and intervene effectively when it did.
In honor of Child Abuse Prevention Month, I wrote this blog post that outlines what child abuse is, the signs and symptoms of abuse, resources to teach prevention lessons, and what educators need to know to support students with this tough, sensitive, and critical issue.
What is Child Abuse?
Child abuse is when a parent or caregiver, whether through action or failing to act, causes injury, death, emotional harm, or risk of serious harm to a child. There are many forms of child maltreatment, including the following:
Physical Abuse: a parent or caregiver causes any non-accidental physical injury to a child
Sexual Abuse: an adult uses a child for sexual purposes or involves a child in sexual acts. This also includes when a child who is older or more powerful uses another child for sexual gratification or excitement.
Grooming: the act of knowingly creating an emotional connection with a child to prepare the child for sexual abuse. Grooming can happen in person or online. Youth who are alone, have low self-esteem, or seek attention are most at-risk for grooming.
Emotional Abuse: a parent or caregiver harms a child's mental or social development or causes serious emotional harm. While a single incident may be considered abuse, emotional abuse is most often a pattern of behavior that causes damage over time.
Neglect: a parent or caregiver does not provide the care, supervision, affection, or support needed for a child's health, safety, and well-being. This can include physical neglect, inadequate supervision, emotional neglect, medical neglect, or educational neglect.
Child Abuse Facts:
According to www.dosomething.org, and SCAN, 1 in 7 children have been abused or neglected in the past year. In 2018, 1,700 children died from abuse or neglect in the U.S., with neglect being the most common form of abuse. Every 11 seconds a child abuse report is made in the US. While boys and girls experience similar rates of abuse, children under a year of age are most vulnerable to maltreatment, accounting for almost half of child fatalities from abuse in 2018. In the same year, about 16% of abused children experienced more than one kind of maltreatment. In substantiated child abuse cases, at least 80% of the perpetrators were the child's parent. Child abuse and neglect rates are 5 times higher for children with low socioeconomic status compared to children in families with a higher SES. However, this data may be incomplete as the actual number of abused children is likely under-reported. It is estimated that for every report made related to child abuse or neglect, there are 2 more that go unreported.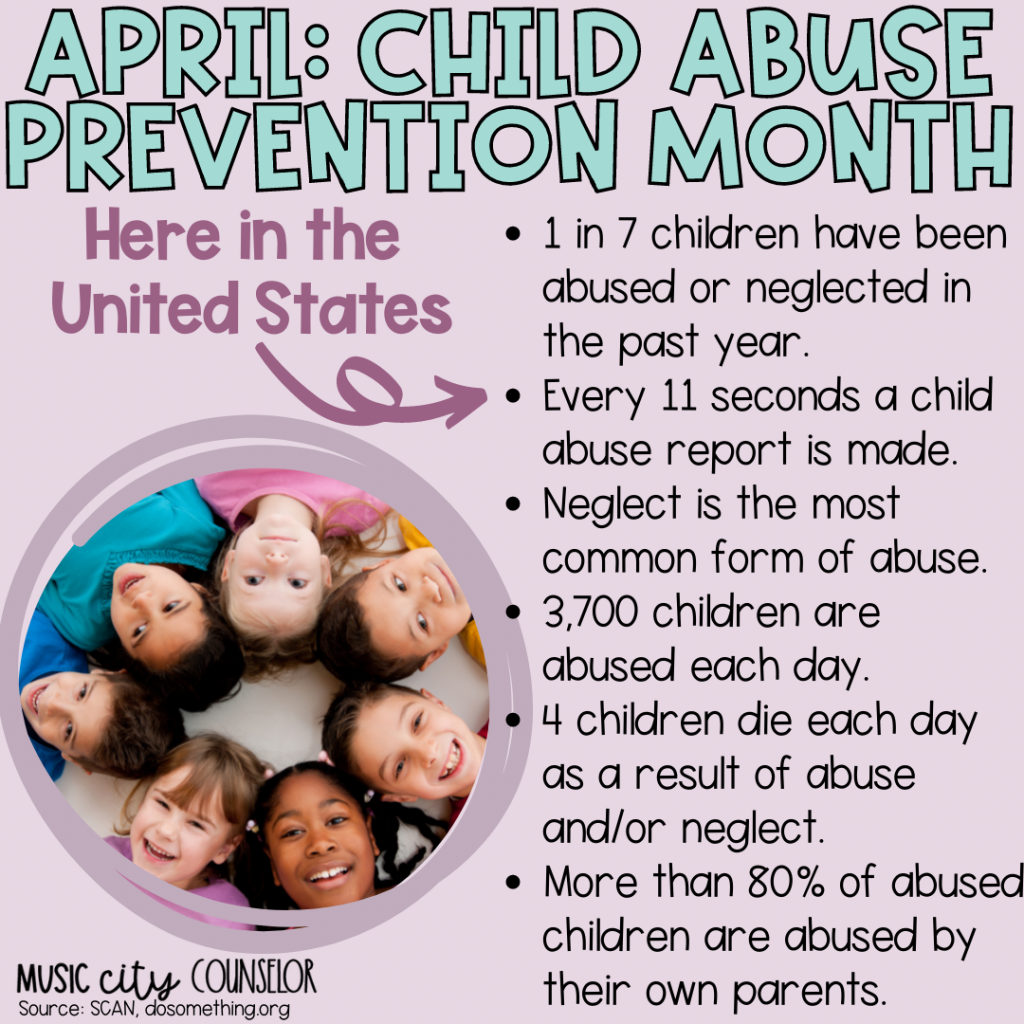 Signs & Impact of Child Abuse:
As educators, we spend a significant amount of time with our students, building and maintaining safe and healthy relationships with them. Therefore, we must be aware of changes in mood, behavior, or physical appearance in our students, as these could be potential signs of abuse. Here are the most common signs of child abuse in elementary students: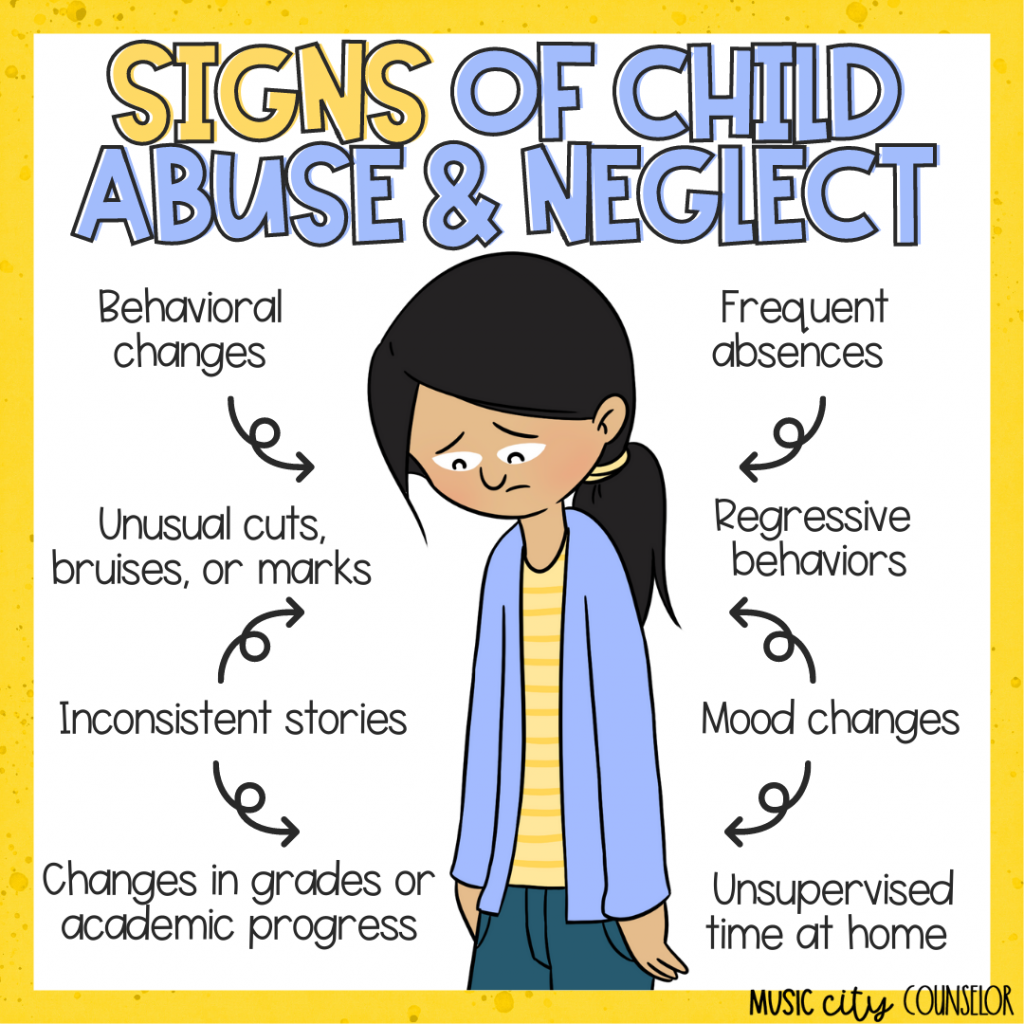 Abuse can have many long-term effects throughout childhood and into adulthood. Adult survivors are more likely to experience mental health difficulties, including depression, anxiety, bipolar disorder, PTSD, eating disorders, and substance use disorders. Adult survivors of childhood abuse are also more likely to engage in high-risk behaviors such as smoking, alcohol and drug use, and unsafe sex.
Educators as Mandatory Reporters:
As educators, we wear many hats. One of our most important responsibilities, but one that many educators feel uncomfortable or ill prepared to handle, is to report any and all potential abuse or neglect to DCS (also called CPS) within 48 hours. Educators are mandatory reporters, meaning we are required to contact DCS, but are not expected to investigate or determine the claim's validity. We provide the information and allow DCS to conduct their investigation. It is critical that the educator with first-hand knowledge of the abuse file the report, meaning whoever the child disclosed to. This way, the most accurate information can be passed to the proper authorities. DCS reports are kept confidential, meaning they will not identify who made the report to the child/family. Anyone who files a report in "good faith" is free from civil or criminal liability.
If a child discloses abuse to you, or gives you reason to suspect it, please respond in a calm and caring way, and provide a safe place for the child to share. Here are some tips for educators I have learned over the years: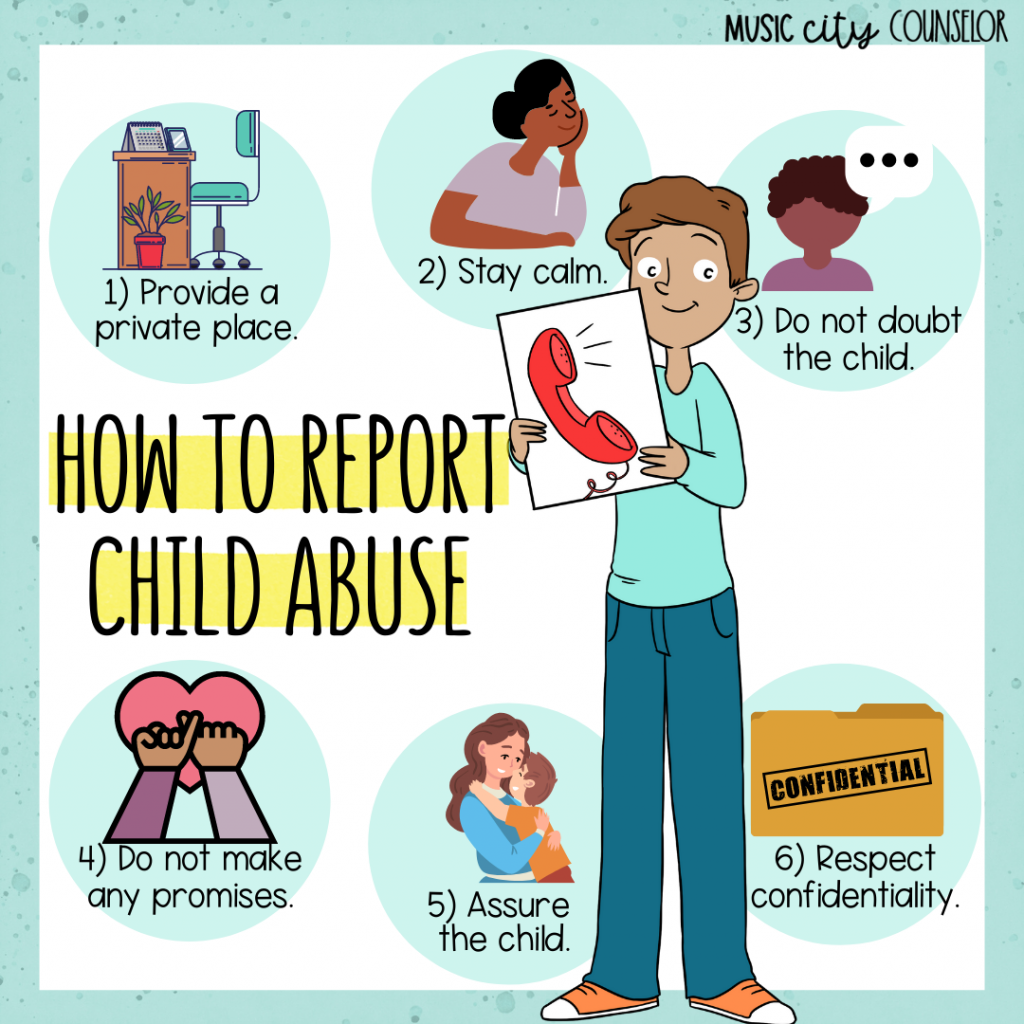 Provide a private place to talk. Ask the child to step away for a moment, in the hallway or in an area of the room that is away from classmates.
Stay calm. A child disclosing abuse is worrisome and scary, but we must remain calm for the child's sake. Be aware of your tone of voice and body language. Exude comfort and safety so that the child is willing to open up.
Always believe the child. Remember, it is not our job to determine if the claim is true or false. Do not assume that the child is making this up or express any doubt to them. This could cause them to shut down.
Do not make any promises that you may not be able to keep. Please tell the child that you will do whatever you can to keep them safe, that you love them, and that you're proud of them. But do not promise that you'll take them away from the alleged abuser, that they'll never get hurt again, etc. We simply cannot make these types of promises.
Assure the child. Use phrases such as, "You did the right thing by telling me", "This isn't your fault," "You are so brave," and "What can I do to help you feel better in this moment?"
Respect confidentiality. Explain that your conversation will be kept confidential to the extent that you're able to. A statement I've used in years past was, "I will only tell the people I need to so that I can keep you safe, healthy, and happy." Along these same lines, you are NOT obligated to contact parents, especially if they are the alleged perpetrator.
Be genuine and empathetic. You have already established yourself as a safe person to this child. Continue to listen, empathize, and love them. They need you!
In the event that a formal report is necessary, here are some helpful tips for you:
Have the child's personal information readily available. Have a copy of the child's cumulative folder, registration form, or your school's student information system handy. The DCS worker will ask for the child's full name, DOB, address, parent's names and phone numbers, and other pertinent information.
Write a summary of what you know. Write down all of the facts (not feelings or suspicions) that you know. This will help you stay on task during your call and also serve as a memory aid should you need it in the future. Store this information in a private place.
Make a report to DCS. Most states allow you to submit a report online or over the phone. For more urgent reports, always make a phone call. Document the case I.D. number and name of the intake person for your records. Remember, it is not your job to determine the validity of the report – simply disclose any facts that will help DCS with their investigation and case.
What is Erin's Law?
You may have heard the term "Erin's Law" when referring to child abuse prevention lessons and resources. It is named after childhood sexual assault survivor Erin Merryn who introduced the legislation in her home state of Illinois. Thanks to Ms. Merryn, Illinois was the first state by law to mandate child sexual abuse prevention education. As of July 2019, Erin's Law has been passed in 37 states.
"Erin's Law" requires that all public schools provide a prevention-oriented child sexual abuse program that teaches:
Grade school students age-appropriate techniques to recognize child sexual abuse and tell a trusted adult
School personnel about child sexual abuse and how to report it
Parents & guardians the warning signs of child sexual abuse, plus needed assistance, referral, or resource information to support sexually abused children and their families
Teaching Child Abuse Prevention Lessons:
My state of Tennessee is an Erin's Law state, and I remember being a brand new counselor and my district supervisor asking me to teach a child abuse prevention lesson to all grade levels, PreK – 4th. My district did not provide any materials and I felt completely in over my head. I wanted to teach the lesson in a sensitive, gentle, and developmentally appropriate way. But, what if I said the wrong thing? What if I didn't explain myself well? What if I offended someone? If only I had the resources back then that I have now, I could have felt more confident, prepared, and ready to teach this tough topic. After all, it could safe a life!
Safe Touch, Ouch Touch, & Private Touch:
When teaching sensitive topics such as child abuse, it's essential to be open, clear, and developmentally appropriate with our language. For example, I choose to use the terms, "safe touch," "ouch touch," and "private touch" rather than "good touch" or "bad touch." Using words like "good" and "bad" can create confusion and shame in children.
It is also critical to enlist parents', teachers', and administrators' help and support in teaching this critical information. I recommend sending a letter home to parents approximately 2 weeks in advance that informs them of the information covered in the lesson, offers helpful resources they can use at home, and gives them the opportunity to opt their child out of the lesson (although I've never had a parent do this, thankfully!). I always encourage parents to start this important conversation at home and to remind their child that they are a safe person that they can talk to. Also, make sure to inform your administrator and teachers that you are teaching this lesson and provide them with the materials that you plan to use. Every year, I had at least 2-3 children disclose abuse after my lesson, and occasionally parents would call with questions, so I wanted all of our stakeholders to be aware and on the same page. If you are a counselor who teaches in your own classroom or during specials, consider asking the teacher to stay for the lesson because of the sensitive nature of the topic. This way, teachers see the same material that their students do and students realize that their teacher is on the same "team" as their counselor to help keep them safe. All of these extra steps help create a safe, nurturing, and informed environment for our children and these difficult conversations.
To teach children about the three types of touch and how to report child abuse prevention to a safe grown-up they trust, I use this lesson: Safe Touch and Child Abuse Prevention.
In this lesson, you'll find examples and descriptions of the three types of touch as well as opportunities for students to discuss who they consider to be safe people in their lives. It's important to emphasize that not everyone will have the same safe people. We can't assume that all dads, aunts, coaches, etc. are "safe people" because, at times, they could potentially be a predator. Instead, emphasize that safe people vary from child to child and should be someone that trusts, loves, protects, and takes care of them.
Safe Secrets & Unsafe Secrets:
In addition to learning about the 3 types of touch, it is is equally important for students to learn the difference between safe and unsafe secrets:
Safe secrets CAN be kept, and they:
Are fun, loving, and kind
Will be revealed at a special time
Are shared by a safe person
May be a surprise, celebration, or gift
Unsafe secrets CANNOT be kept, and they:
Are scary, worrisome, and uncomfortable
Told me to keep it a secret forever…or else…
May be hurting or touching my body
Must be reported to a safe grown-up right away
To teach this critical information, I created this digital and printable Safe & Unsafe Secrets lesson. It teaches students the difference between the two types of secrets and provides 20 realistic scenarios for practice. In the digital lesson, students read the scenario and then drag the X to the "safe secret" or the "unsafe secret" box.
In the printable lesson, students sort the scenario cards into either the "safe secrets" or the "unsafe secrets" bag.
Story Book Recommendations:
If you know me, you know that I love using story books in counseling and used them in just about all of my classroom lessons. Three books I would recommend for child abuse prevention lessons are (Amazon affiliate links): "My Body Belongs to Me" by Pro Familia, "A Terrible Thing Happened" by Margaret H. Holmes, and "What's Inside Your Backpack?" by Jessica Sinarski. I'll review and summarize them for you below!
"My Body Belongs to Me" by Pro Familia (Amazon Affiliate Link) is a simple, to-the-point introduction to child abuse prevention and "touching rules" for children. It tells the story of Clara, a little girl who proudly states that her body belongs to her. This means that only Clara gets to decide by whom, how, and where her body is touched. She shares that some touches make her feel happy, safe, and comfortable, such as tickling her friend, sitting in her granny's lap, and hugs from her papa. But other touches, like wet kisses, or being held too tight, make her feel trapped, icky, or unsafe. When those happen, Clara has the right to say, "Stop, I don't like that" or "No, please stop." If she asks someone to stop and they don't listen, she knows that she needs to tell a grown-up right away.
I appreciate how this story is applicable to all students since it focuses more on the day-to-day touches that happen so often between children and adults. I also like how it encourages students to be assertive and take control of their bodies, and to report any unwanted touches to a grown-up they trust. This book would be a great-read aloud for a classroom lesson and also a good suggestion for parents to add to their home library.
The second story I'd love to share with you is: "A Terrible Thing Happened" by Margaret H. Holmes (Amazon Affiliate Link). A little raccoon named Sherman Smith witnessed the most terrible thing. He tried to forget about it and hide it, but it started to bother him. He felt nervous for (seemingly) no reason, his stomach hurt, and he had bad dreams. He felt angry, which caused him to make bad choices and get into trouble. Until he met Ms. Maple, his counselor, and she helped him talk about the terrible thing. Ms. Maple helped Sherman heal, process his feelings and experiences, and feel much better.
What's amazing about this story is that the "terrible thing" Sherman experienced is purposely ambiguous so it can apply to ANY trauma a child is going through. The picture shown on the cover of the "terrible thing" is blurred so that the child can interpret it as they please. I love asking them to explain what they see in the image, guess what Sherman's "terrible thing" might be, and when they're ready, share theirs. I also appreciate how the story encourages children to follow Sherman's example and go to a safe, trusted adult for support, guidance, and love. This story is so relatable and gently told, so it is perfect for starting and introducing tough topics and conversations in classroom lessons, small groups, and with individuals. This story would be a great introduction for Child Abuse Prevention lessons and one that you can recommend for parents to use at home, too.
"What's Inside Your Backpack?" (Amazon Affiliate Link) tells the story of Zoey, a little girl with a lot of heavy "books" in her backpack. These books called "Shame" and "Worry" weigh her down and make her feel fearful, unsure, and tense. The heaviest book of all in her backpack is one called "Unsafe Parent" and is the hardest one for her to talk about. Zoe fears that talking to her school counselor, teacher, or friend about the awful things her dad did may get her in trouble or make her feel even worse. But once Zoe decides to open up to the trusted adults in her life, they each give her special bookmarks with inspirational sayings like, "Breathe in Calm, Breathe out Fear," and "Imagine with Hope" that help her heal and lighten her load. This story teaches that although our "books" never fully go away, they do make up important parts of our story, and we can learn how to cope with them and find our strength.
‍
This story would be absolutely perfect for any child who has experienced trauma or is going through any heavy personal issues. Every child can understand the feeling of a heavy backpack which makes this metaphor very relatable and straight-forward for kids. I would use this story in individual and small group counseling, and ask students to draw/write about the books in their backpacks. It may even help to fill up a real backpack with heavy books and have each child wear it and relate that feeling to how it may feel to be weighed down with worry, shame, fear, trauma, and doubt. This story would work very well for both classroom lesson and counseling with individuals/small groups of students.
I hope this post taught you valuable information about child abuse and neglect, and provided some helpful resources and strategies to help you support students. As teachers and counselors, we have the power to help prevent child abuse and to intervene to save a life!
What is one important takeaway you had after reading this post? What are your go-to resources for teaching kids how to navigate tough situations? I'd love to hear from you!
Pin for later: