An overwhelmed, exhausted, and overworked 3rd grade teacher walked into my office. It was April – standardized testing season. With panic in her voice, she shared that she was up all night worrying about whether she had prepared her students well enough for THE TEST. Had she done enough intervention with Sally, or had she reviewed sufficiently with the whole class? If her students didn't do well, what did that mean about her as a teacher? Despite her best efforts each and every day, was she failing her students?
Over 40% of teacher evaluations each year depend on standardized test score results. Our school had already cut back on extracurricular activities like art, music, and even recess to allow for more test prep time. There was a palpable tension and worry among our faculty, and they weren't even the ones taking the test! Imagine how our children were feeling.
For the last two decades, federal law has mandated that each state administer a standardized test on core subject areas and report the results. Due to the COVID-19 pandemic, these tests were put on hold in 2020 as students and teachers pivoted to virtual learning. This year in 2021, despite the devastating challenges facing students and teachers every day, the U.S. Department of Education announced that students will take standardized tests once again and states will report the results.
As you know, students, teachers, and families are struggling, traumatized, and stressed. COVID-19 has left profound effects on our daily lives including prolonged isolation, illness, instability, unemployment, and even loss of family members. Switching from in-person to virtual or hybrid learning environments multiple times this school year has created more learning gaps and more anxiety than ever before. COVID stress layered on top of performance anxiety surrounding testing may just be too much for our teachers and students to handle.
What is Test Anxiety?
Test anxiety is a type of performance anxiety associated with the pressure to succeed on tests of any kind. It can trigger fear, worry, and physical symptoms. Test anxiety is arguably one of the biggest, and most widespread, challenges that students face today. In recent years, testing has steadily been on the rise, and anxiety associated with these tests is increasing at an alarming rate. Almost 35% of students struggle with test anxiety. That's 10 million children in the U.S. alone! This year will surely top that number when combined with the COVID stress and angst students are already experiencing.
Students with test anxiety may experience headaches, nausea, diarrhea, excessive sweating, rapid heartbeat, shortness of breath, or weakness. I have experienced firsthand students vomiting on their tests, fainting during a test, and feeling too ill to attend school on testing days.
Test anxiety is associated with negative outcomes such as low motivation, lack of confidence in schoolwork, anger, negative self-talk, decreased comprehension, and avoidance of schoolwork and tests. This can result in negative mental health outcomes, lower grades, and under-performance throughout their school years. In the most severe cases, students may even drop out of school.
How to Help Students with Test Anxiety
As counselors, teachers, and administrators, we must keep in mind that students need support and education on learning to recognize and manage test anxiety. Standardized tests will likely remain a major part of education for years to come, so we need to equip students with meaningful strategies to help them cope. Teaching children healthy ways to manage test anxiety early in the school year, and reviewing them throughout, can dramatically improve their school and testing experience. Learning techniques to reduce test anxiety can be a total game-changer in student (and teacher) happiness and success!
Recognize the Physiological Signs of Test Anxiety
The first step in helping children cope with test anxiety is to teach them to recognize their bodies' physiological signs. Often, students are not even aware that they are experiencing stress at all. By teaching students to listen to their bodies, they can learn to identify their feelings and take action before they panic or lose control. To help students understand the symptoms of anxiety, I like to use a visual like the one below. We talk through what each symptom looks and feels like, and help students identify which signs they typically experience when they are nervous. This helps children name their feelings in the moment in the future.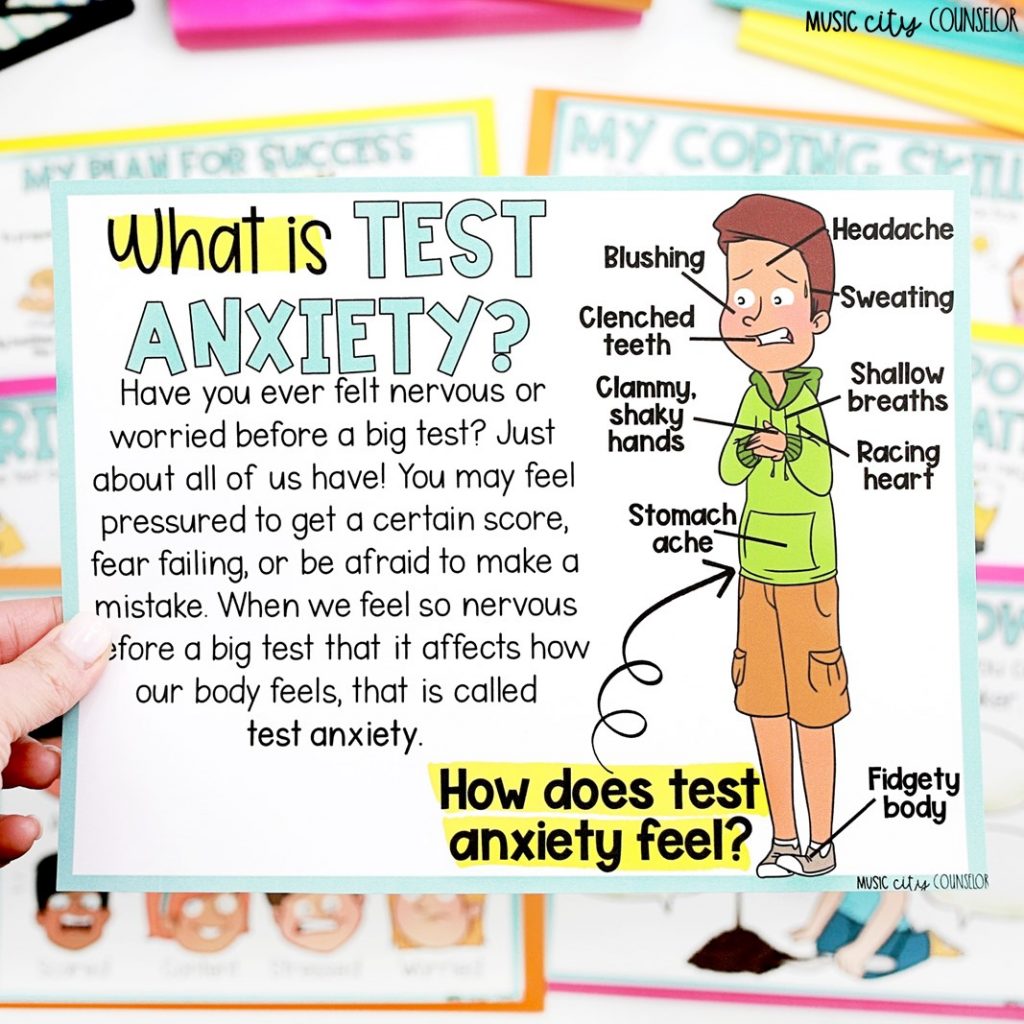 Identify and Express Feelings and Worries
Once children understand how they experience anxiety, they can learn to name their feelings. I teach children to say "I am feeling anxious" or "I am feeling worried," rather than "I am anxious" or "I am worried." This helps them separate the feeling from their identity. Children realize that they are more than their emotion, and feelings are only temporary. With time and coping skills, these feelings will soon be on their way! I like to use activities shown in the image below to check in with students on their feelings and worries before a big test.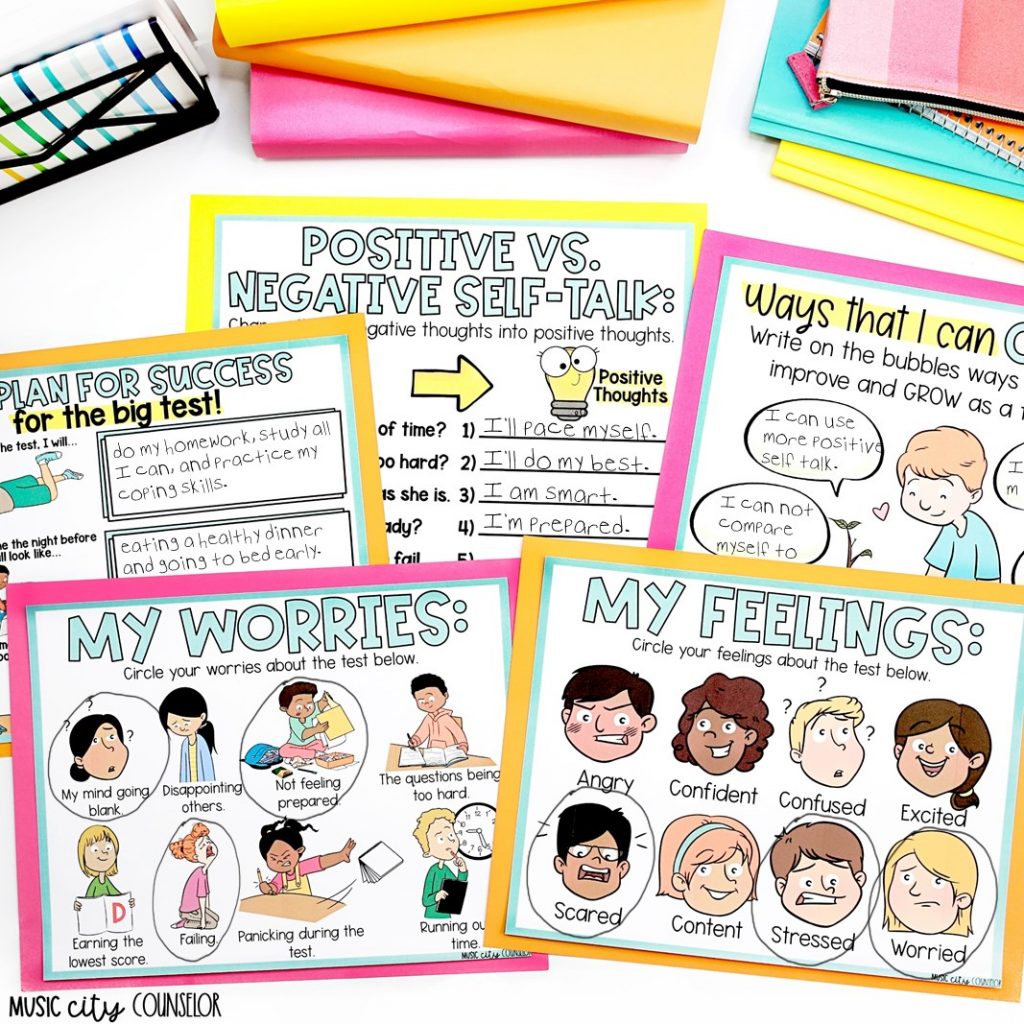 De-Catastrophize Their Worries
Once students have identified their worries, I like to use CBT techniques to help them de-catastrophize and reality test their concerns. I use questions like:
Questions like these can help students understand that their biggest worries and fears may not be as rational or likely to happen as they think. They can help students align their feelings and thoughts more closely with reality, build their confidence, and make a plan to cope even in the unlikely chance that the worst does happen.
Yes, this test is important. But will the world end if they don't earn the score they wanted? Will they have to stay in 4th grade forever? No. Life will go on just as it did before, and they will learn from this experience and move forward! Discussing and processing these worries in classroom and small group settings can help children realize that they are not alone in their feelings, and help them find support within their classroom community.
It is also critical to help children understand that the big test does NOT define them. There is so much more to them than a standardized test score! The test does not measure the love, kindness, and compassion that they showed the student with disabilities in their class. It does not measure the beautiful song they learned to play on the piano. And it cannot measure their patience in teaching their grandma how to use an iPhone. All of these things are arguably MORE important than a standardized test score. If only our society valued them as such!
Practice Coping Strategies
The final and most crucial step in helping children manage their test anxiety is to teach, model, and practice coping strategies. It is important to teach and model several techniques so that children can discover which skills work best for them. I like to tell students that these coping skills will give them a "test anxiety toolbox," and different situations will require them to use different tools!
The first coping skill that I always teach, since it is one of the easiest to do but the most effective, is to stop, breathe, and count to 10. This moment of pause can reset our brains and bodies and prevent us from losing control. I also like to teach "hand breathing," where the child uses one finger to trace up and down each finger, as they simultaneously breathe in and out ten times. In my digital and printable test anxiety resource, students learn nine practical coping skills for calming test anxiety. They include:
This resource also teaches children eight practical test-taking tips and offers a relaxation script to build confidence and calm nerves before testing day. The test-taking tips include:
To reinforce this material in a hands-on and interactive way, I love using manila folders and hook-and-loop fastener dots to create this lap book. It is super easy to create and compact to store anywhere and pull out as needed! The lap book asks students to choose two feelings, two worries, and two coping skills to help them manage their emotions about the big test. Once they have practiced with me a few times, students can use it independently to help identify their feelings and build their confidence.
Bibliotherapy for Test Anxiety & Test-Taking Skills:
If you know me, you know that I LOVE to use stories in my counseling practice. Stories engage students, help them feel not so alone in their feelings and experiences, and teach relatable, powerful lessons. Three picture books that I recommend for helping children cope with test anxiety are: (Amazon affiliate links) "Testing Miss Malarkey" by Judy Finchler, "The Big Test" by Julie Danneberg, and "The Anti-Test Anxiety Society" by Julia Cook.
The new school year brings testing to all schools, and Miss Malarkey's class is no exception to the rule. All school staff, teachers, and even parents are helping to prepare for THE TEST. The whole school is focusing on this test. Even though the teachers, school staff, and other grown-ups tell the children not to worry, they're acting pretty weird. The gym teacher teaches calming meditation and yoga instead of the usual games and sports in PE class. Parents are making their children do pop quizzes on the bedtime stories they read in the evenings. The cafeteria is even serving "brain food" for lunch. The students are perplexed! They start to think that maybe this upcoming test is more important than the grown-ups are saying. I love how this book pokes fun at standardized testing and has a humorous outlook on the whole process, but still addresses test anxiety as a very real thing for everyone involved!
Mrs. Hartwell is getting her class ready to take the Big Test. Knowing they have studied and are prepared for the test, she asks her students to practice test-taking strategies like sitting quietly, filling in the bubbles, and following the directions. Mrs. Hartwell repeatedly tells them they must remember to show what they know….before the timer goes off! As her students grow increasingly anxious about the Big Test and frequently end up in the nurse's office, Mrs. Hartwell begins to see that she needs to teach her students how to relax, too! Mrs. Hartwell knows just what to do: she throws a huge party to help her students feel better about the Big Test! This book sheds light on how teachers, in the interest of preparing students for a test, end up creating a lot of anxiety in students. It would be a great one to read just before a surprise test party or to build morale among students and teachers!
Bertha Billingsworth (BB for short) is an energetic and positive girl…until there is a test to take. For her, the word test stands for Terrible Every Single Time because that's how she sees them: TERRIBLE! BB's teacher recognizes this and invites her to become a member of the Anti-Test Anxiety Society. She tells BB that TEST stands for Think Each Situation Through! She teaches BB the Dynamic Dozen: 12 excellent test-taking strategies such as visualization, doing the easy questions first, and exercising the morning of the test. BB also learns how to use her "GET TO" brain instead of her "HAVE TO" brain. This helps BB understand the difference between positive and negative self-talk, and how the way we think affects our feelings, choices, and performance. Now when BB takes a test, she is calm and focused, and thanks to her teacher, the Terrible now stands for TERRIFIC! I love how this story explains test anxiety, offers practical tips, and helps students feel more comfortable with the big test!
I hope that this post offered a helpful understanding of test anxiety and ways to help children manage it. I wish you and your students the absolute best on the big test – and always!
Pin for later: