It's the most wonderful time of the year! Family time, cozy fires, hot chocolate, gingerbread houses, sledding…I'm here for all of it! Y'all know that I LOVE incorporating a seasonal flair into my counseling sessions and classroom lessons, and find that it leads to increased student engagement, buy-in, and fun! Just like us, our students are excited about the winter season and love when we use winter-themed stories, games, and activities with them. In this post, I'll share my winter favorites, as well as a few freebies along the way!
Winter Stories for Counseling & SEL
If you know me, you know that my favorite way to open counseling lessons is with a story! Here are six of my favorite winter-themed stories for counseling and SEL:
I love all of the stories above, but wanted to share more with you about my top three: "The Wish Tree," "Extra Yarn," and "Those Shoes."
"The Wish Tree" by Kyo Maclear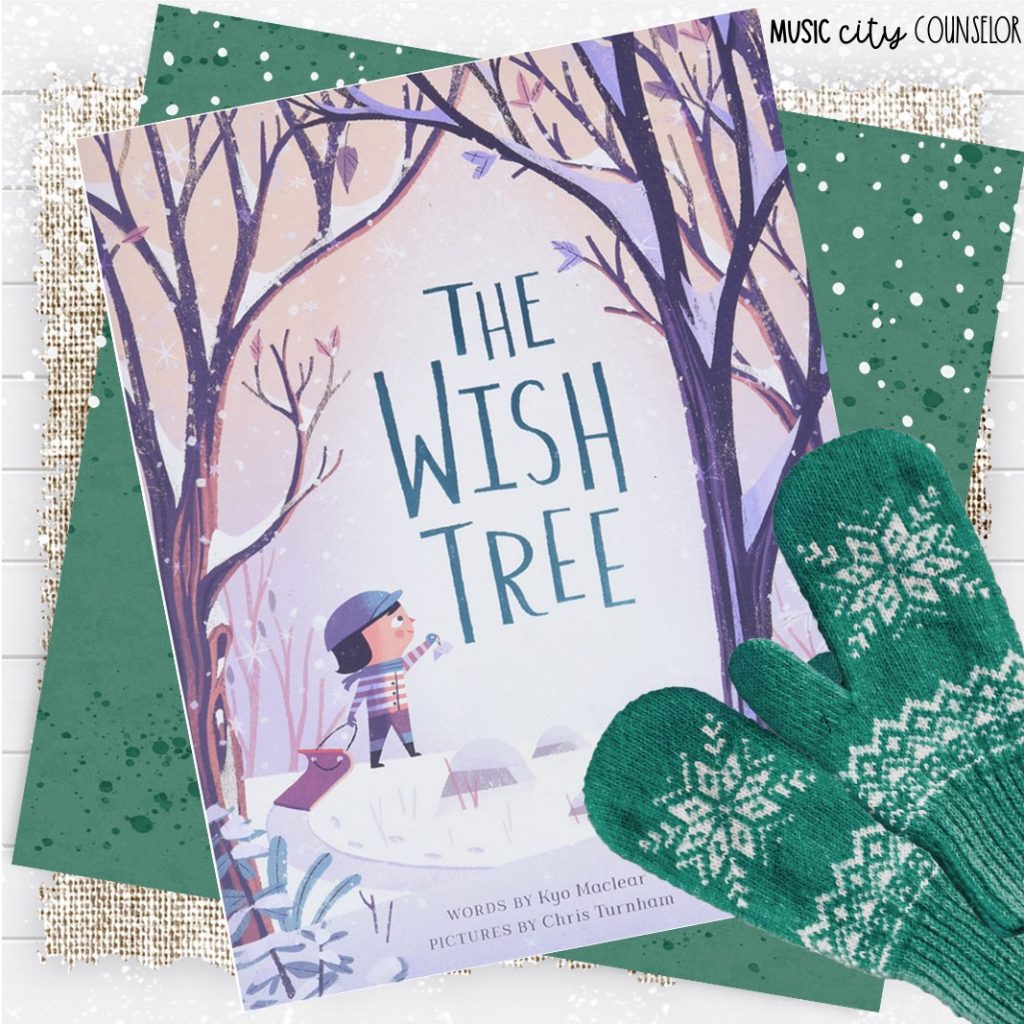 My first winter story recommendation is "The Wish Tree" by Kyo Maclear (Amazon Affiliate Link). This one was brand new to me this year and is the most heart-warming and precious story I've read in a long, long time! I'm not kidding when I say that my 4-year old son, 39-year old husband, and myself were all smiling ear to ear as we read it!
"The Wish Tree" tells the story of Charles who sets out in the snow in search of a wish tree with his wagon, Boggan. Although his friends don't believe that the wish tree is real, Charles is determined to find it! As he walks through the forest, Charles comes across several animal friends who are all struggling to prepare for winter. The beaver needs to gather birch wood to build his dam, the squirrel needs to gather nuts, and the fox needs to bring berries to his den. Charles is more than happy to halt his own quest in order to help each animal. But, by the time he has helped everyone, he is just too tired to continue his search for the wish tree. This is when the magic happens! The animals all gather together to return the favor to Charles and carry him, fast asleep, all the way to the wish tree on his sled. When Charles wakes up, he finds the beautiful, glowing wish tree and attaches his wish to its branch. In the end, Charles and the animals all enjoy a feast together before returning home.
This story would be perfect for a classroom lesson on kindness, compassion, and friendship. It would also be amazing for a New Year's resolution lesson in which students could write their "wishes" for the new year. You could even create a big "wish tree" out of butcher paper in the hallway and students could glue or tape their wishes to it! No matter how you use it, this heart-warming story will be one that sticks with your students (and with you) for a long time!
"Those Shoes" by Maribeth Boelts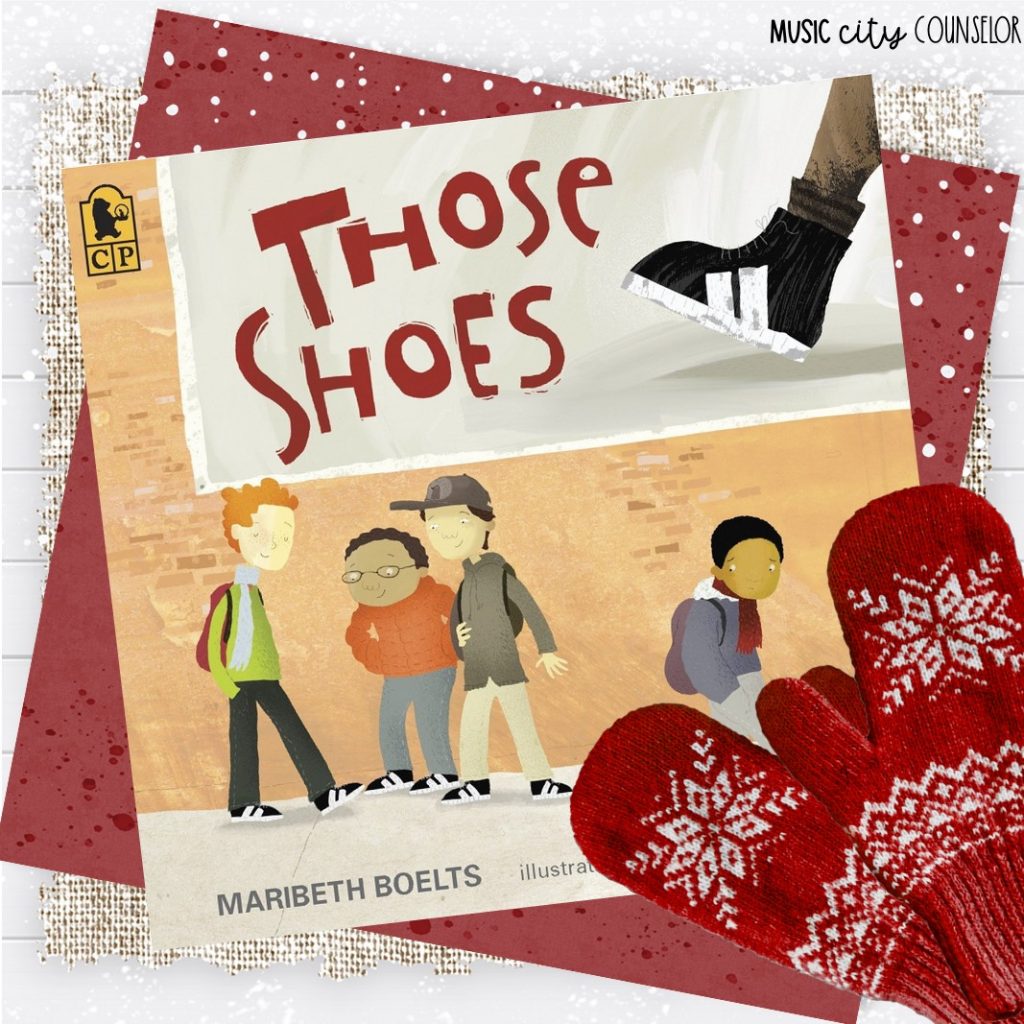 Another favorite winter story is "Those Shoes" by Maribeth Boelts (Amazon Affiliate Link). It tells the story of Jeremy, a little boy who desperately wants a pair of "those shoes" that all of the kids at school (besides him, of course) are wearing. But, his grandma just can't afford a pair of these expensive, popular shoes. Instead, Jeremy wears an embarrassing pair of "Mr. Alfrey shoes" that his school counselor gave him when his were torn. One day, Grandma offers to take Jeremy to a thrift store to see if they can find a second-hand pair of "those shoes," and to his delight, they do! Even though they are too small for his feet, Jeremy proudly and stubbornly wears "those shoes" just so he can fit in with the crowd. But, after a few painful days in too-small shoes, Jeremy notices that his friend Antonio, whose feet are smaller than his, is wearing torn and taped shoes. Antonio was the only friend at school that didn't make fun of Jeremy's "Mr. Alfrey shoes." As hard as it was to give up his pair of the special shoes, Jeremy chose to surprise Antonio with them at his house and gift them to him. This is a powerful and relatable story about friendship, compassion, kindness, generosity, and the difference between wants and needs. It is a perfect message for the holidays to help children understand that it is even more beautiful to give than to receive.
An aspect of this story that I especially like is that it includes an African-American main character whose family is struggling financially. As you know, it is so important for students to "see" themselves in the stories they read and so often, popular story books include white, middle-class characters. I was thankful to read to my students a story that they could really relate to and hoped that they could see themselves in Jeremy.
I love this story so much that I created a companion lesson to go along with it. Through an engaging presentation, interactive sorting game, crafts, worksheets, and discussion cards, students learn all about compassion, wants vs. needs, and the power of giving.
"Extra Yarn" by Mac Barnett
As hard as it is to choose, my all-time favorite winter story for classroom lessons is "Extra Yarn" by Mac Barnett (Amazon Affiliate Link). It tells the story of Anabelle, a little girl who lives in a dark, gloomy, and snowy town. One day, she finds a box of yarn and decides to make herself a sweater. Then, she makes colorful sweaters for her neighbor, his dog, every student in her class, her teachers…even for the trucks, birds, houses, and mailboxes! The crazy thing is – Anabelle's ball of yarn never runs out! Word starts to spread of her spectacular ball of yarn, and an archduke sails across the sea and offers to buy her yarn for ten million dollars. Anabelle declines and absolutely refuses to sell it. Then, the greedy archduke sends robbers to steal the box of yarn from Anabelle's house in the middle of the night. But, when the box of yarn arrives at the archduke's castle, to his surprise… it is EMPTY! He tosses the empty box out to the sea in anger and it makes its way all the way back to Anabelle's house so she can continue making her special sweaters. After reading the story, I absolutely loved having my students try to explain why the yarn was magical and never ran out for Anabelle, but was invisible to the archduke. From kindergarten all the way up to 4th grade, the ideas they come up with are so priceless and special!
This story is so perfect for teaching about kindness, compassion, generosity, and giving. Such important lessons all year long, but especially during the holiday season!
I just had to create a companion lesson to go along with this amazing book! It includes an engaging presentation, adorable craft, and worksheets that let students explore giving, compassion, and kindness.
Winter Feelings Check-Ins
A simple but effective way to incorporate the season into counseling sessions is with winter-themed feelings check-ins. I love to use feelings charts in counseling sessions, minute meetings, and even as an icebreaker/opening activity in classroom lessons. They give students the chance to identify and express their emotions, and help me get a read on how my students are feeling and coping today.
My favorite Winter Feelings Check-In asks students to place cute gingerbread emojis on the pan that represent how they are feeling today. I like to print and laminate the color version, then place a hook-and-loop fastener dot on the pan and on each emoji face. Students attach the faces to the gingerbread cookie on the pan to express their emotions, and the activity can be used again and again!
And for an even simpler winter feelings check-in, I like to use these free feelings charts! You can grab them for from TpT by clicking on each image below! They're great to use in session with students, in your Calm Corner, and to post on your door for kiddos to reflect on as they pass by your office. I made sure to include each major holiday so all students feel seen and included. 🙂
Winter Counseling & SEL Activities
Next, I'll share with you my favorite winter-themed counseling and SEL activities. They add a fun seasonal flair to meaningful SEL and counseling instruction!
What's not to love about an adorable winter craft? This Gingerbread Feelings and Coping Skills Lesson teaches students to identify 8 emotions (happy, sad, angry, surprised, scared, nervous, proud, excited) and practice 3 coping strategies to manage each feeling. The lesson offers practical skills that students can try right away to help them cope with and stay in control of their emotions. The gingerbread feelings craft that lets students explore all 8 emotions is the perfect way to close the lesson, and decorate the hallway or a bulletin board!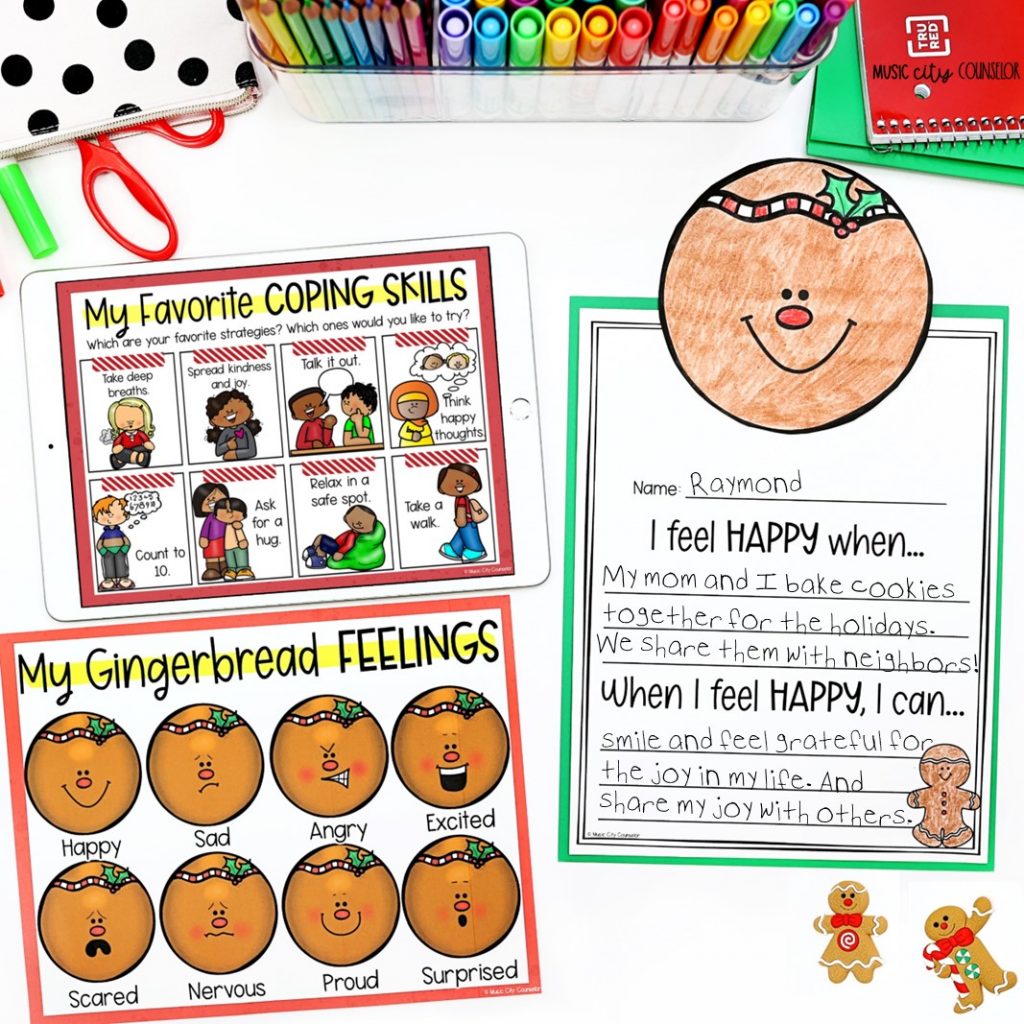 Another favorite winter-themed activity is my "Build a Snowman Feelings Game." It's great for individual and small group counseling, centers, and lessons! It is really simple to play and helps students work on feelings identification and social skills. To play, students read winter-themed scenarios and imagine how they would feel. Then, they drag (or place) a snowman emoji on the snowman that expresses how they would feel in that situation. You can use either the digital or the printable version, whichever works best for you!
One last (super special!) activity I'd love to share with you are my Christmas and Winter-Themed Kindness Grams. They are the perfect way to boost morale and spread holiday cheer in your classroom or school! Students, teachers, and parents can send them to each other to spread kindness and love among your school community. You choose the version that best fits the needs and norms of your school (digital or printable, Christmas or winter theme). I've even seen schools use these as a fundraiser before!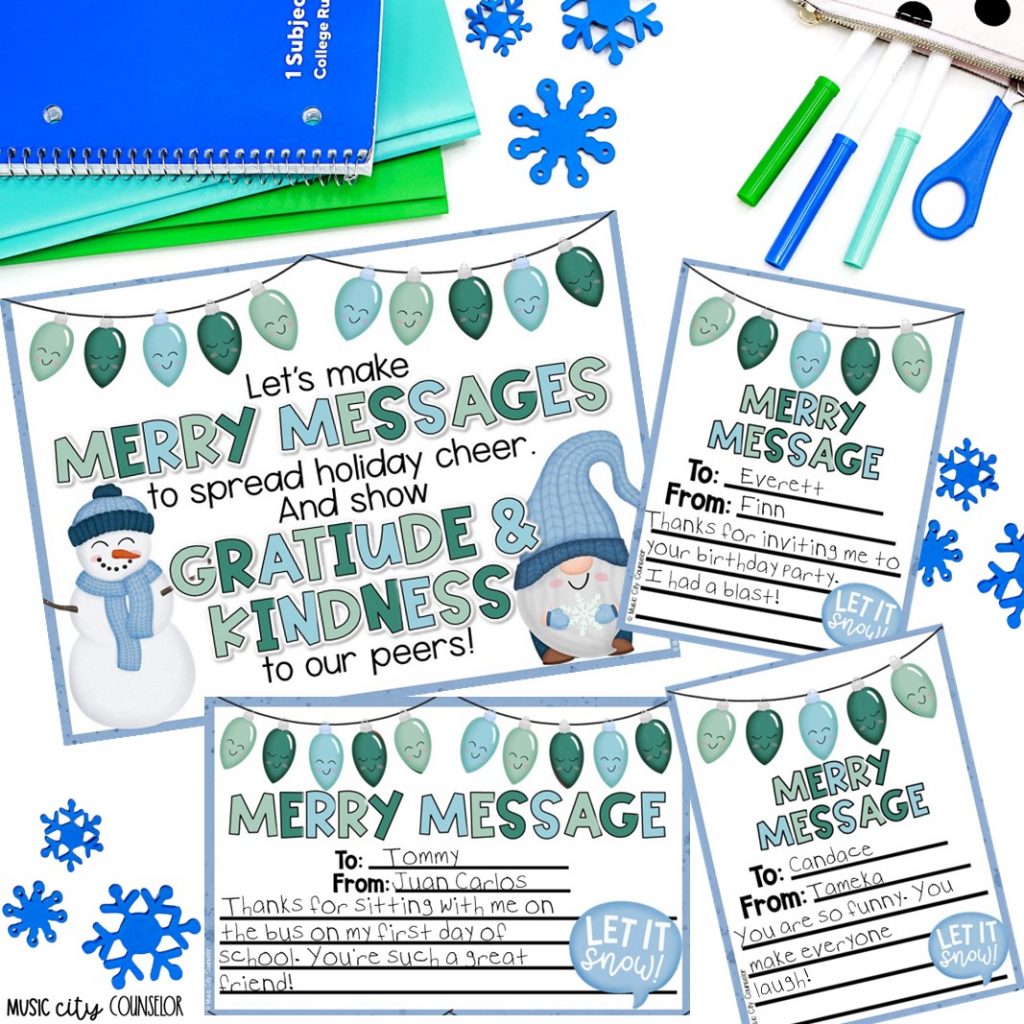 ---
What are your favorite stories for SEL and classroom guidance lessons for the winter season? Please comment on this post, I'd love to hear from you! Stay warm, healthy, and safe! Happy holidays!